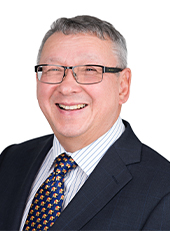 Brian Wake
Partner in Real Estate and Minerals, Energy & Environmental Law
Specialist in Commercial Property
Brian trained at one of the Magic Circle firms in the City of London, specialising in real estate upon qualification. He is a nationally recognised expert in minerals and environmental law and his practice also extends to renewable energy, emergency electricity generation and battery storage, and telecommunications.
He worked in-house for a major mineral company before re-joining private practice in 1986, and since then has advised operators and landowners on major mineral and waste developments (including related planning issues) renewable energy projects (onshore windfarms, biogas and solar). His clients range from large private mineral companies to landed estates, located from Portland to Co. Durham
He has a particular interest in fostering relations with law firms and investors from China and Hong Kong (Brian speaks Cantonese) and the UAE, where he has family connections.
Brian is the author of several legal precedent and other works and is listed in the Chambers legal directory 2018.
Experience
Acted for a landowner in a negotiation for an option and lease for specialist sand in Cheshire, including an application under the Mines (Working Facilities and Support) Acts, which was settled out of court for a seven figure sum.
Advising a landed estate on the south coast in connection with a major dispute with a local operator, resulting in significant gains for the landowner, and restoration of good relations between the parties.
Advising a consortium of 18 landowners on a major onshore windfarm development in Mid Wales.
Acting for a solar farm developer on a 5Mw solar farm in West Yorkshire.
Acting for developers and landowners on EFR and STOR electricity generation and battery storage installations.
Acting for several landowners in connection with renewal of telecommunications installations under the Electronic Communications Code
Advising on a successful claim against a tenant of a golf course using the land for waste management purposes in contravention of his lease
Mines, Minerals and Landfill
Renewable Energy
Country Landowners Association – Minerals and Waste Handbook
RICS Guidlines Form and content of a mineral option and lease