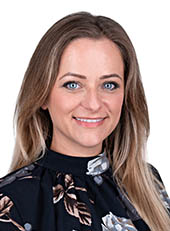 Anna Shaw
Partner in Insolvency and Corporate Recovery
Insolvency and Corporate Recovery Lawyer
Anna specialises in insolvency and corporate recovery and commercial litigation and has 18 years' experience in private practice having qualified as a Fellow of the Institute of Legal Executives in 2009 and as a solicitor in 2011.
Anna also spent a year working for the Department of Trade and Industry in the Public Interest Unit, investigating directors of failed companies involved in Missing Trading Intra Community Fraud and taking action against the Directors under the Company Directors Disqualifications Act.
Anna acts for insolvency practitioners, financial institutions, funders, directors and shareholders in all types of financial disputes.
She advises on contentious and non-contentious matters, both corporate and personal, with a particular focus on non-contentious restructuring transactions, acting for directors facing disqualification proceedings and shareholders' disputes.
Anna regularly acts for insolvency practitioners in asset recovery both in the UK and abroad and has experience of foreign debt collection.
Experience
Acting for an overseas purchaser of a business from the Administrator in the electrical retail business.
Acting for a bankrupt in a multimillion pound asset recovery case with alleged assets worldwide.
Acting for liquidator in complex misfeasance and asset recovery concerning multi-million claims abroad.
Acting for directors of an insolvent company in respect of alleged loans in the Court of Appeal and personal claims from the HMRC.
Acting for directors in Directors Disqualification proceedings and seeking leave applications for disqualified directors when the director had been disqualified for in excess of 10 years.
Acting in shareholders' disputes and proceedings against directors for personal guarantees.