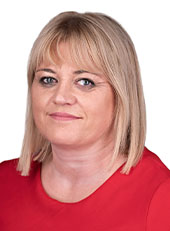 Victoria Jones
Partner in Real Estate
Commercial Property lawyer
Vicki specialises in real estate acquisitions and disposals, pension fund acquisitions, all aspects of Landlord and Tenant work, option and overage agreements. She acts for a number of developers and portfolio clients across the UK.
She also specialises in property finance and secured lending, having acted on various panels for several mainstream lenders. She also acts for private lenders and bridging companies.
Vicki has a practical and proactive approach to her clients' transactions. She has a "can do" attitude and will always look for solutions to any problems that arise.
She likes to work with other professionals to ensure that her clients get the best possible legal, tax and accountancy advice and will always facilitate introductions to people with complementary skills and opportunities, helping clients develop their businesses.
Experience
Acted for a HE/FE college in securing a £30 million facility from a mainstream lender, dealing with facility letters, all encompassing security requirements, conditions precedents, drawdown of facility and redemption of existing facility.
Acted for land owner in agreeing an option agreement with a residential housebuilder, agreeing terms of the option, preparation of full title pack, dealing with the developers queries etc.
Acted for lender on development of an aparthotel in Chester, reviewing facility documentation, lease agreement, reviewing building contract and collateral warranties and perfecting security.
Purchase of an occupied industrial estate for a charity. Estate had 20 lets in existence. Reviewing the title, searches and all leases. Fully reporting to client and lender. Dealing with charity requirements and perfecting security for lender.
Assisting a corporate colleague with the sale of an engineering company, preparing full property title pack and dealing with all enquiries. Reviewing the property warranties in the sale agreement. Dealing with completion matters and the transfer of property out to a pension fund with a leaseback to the buyer of the company.