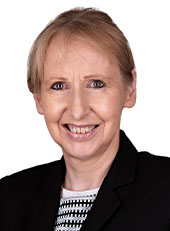 Madelene Schofield
-Whittingham
Partner in Real Estate
Madelene qualified in 1995 and has practised in London, Bristol and the Midlands, building up an extensive contact base.
Madelene has wide experience in acting for large, medium-sized and small commercial and residential developers, including a national house-builder, from site acquisition through to sale of developed-out units.
She also deals with the refinancing of portfolios or single sites, managing landlord and tenant lease portfolios, and acting for commercial landlords and tenants in the grant, assignment and termination of leases.
Madelene has also acted for many company-owner retirement pension funds in respect of the acquisition into and the sale out of property assets including the transfer of assets into and between SIPP's and SSAS's.
Madelene has also acted for a number of agricultural businesses on a range of transactions from the sale or purchase of land and holdings, to dealing with Farm Business Tenancies and grazing licences.
Madelene takes a commercial approach to her client's needs and works with them to achieve each clients' particular needs against the backdrop of their own business framework.
Experience
Acting for large developer to acquire multi-million pound sites via option agreements or otherwise, dealing with S106 and S104 requirements, putting in place appropriate easements and rights to carry out and complete the development, and preparing initial pro forma sales pack for units
Acting for property developer in very late instruction to refinance entire portfolio within the financial year
Acting for commercial landlord of large commercial industrial estate in respect of grant, assignment and termination of leases, rent reviews, and lease breaks
Managing lease portfolio of large logistics company with multiple depot sites
Managing sites portfolio of large UK manufacturing plc