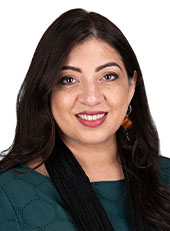 Hina Belitz
Specialist in Employment
Hina Belitz is a senior employment lawyer, author and trainer with over 20 years' experience.
Hina Belitz is a senior employment lawyer, author and trainer with over 20 years' experience.  She has headed up employment teams at a number of City firms, including DLA Piper, Dentons and Pinsent Mason, and was managing partner of her own City of London law firm – Partners Employment Lawyers for 11 years – now part of Excello Law.  She works with a team including trainee solicitor Zahra Mahmood and has been listed in the Legal 500.
Hina acts for a wide range of companies including financial institutions, IT, service and property organisations, charities and educational establishments, as well as for international royalty, and UK-based embassies advising on employment law, supporting on strategy and board level decision making. She also advises senior executives on termination and settlement agreements.
She has personally conducted the advocacy in over 80 claims at Employment Tribunal, Employment Appeal Tribunal and the High Court, often partnering with barristers to assist with representation.
The most substantial part of her work is working with executive teams to advise on employment law when viewed alongside commercial strategy ensuring the smooth running of their organisations, especially when faced with redundancies, TUPE and corporate re-organisations.
Hina established a City-based employment law club in 2007 which runs quarterly updates for 100s of leading businesses and additionally offers HR consultancy services and employment law training.
She is a published author and media commentator on employment law, co-authoring the 'Penguin Guide to Employment Rights' with preface by Cherie Booth, barrister and wife of former Prime Minister Tony Blair, and published her first fictional novel, 'Set Me Free' in 2016, named as one of Amazon's 'Best Debut Novels' that year.
---
Published comments and articles:
What HRs need to know about GDPR and AI – HR magazine Dec 2020
Experience
Advising a major corporation on protracted and burgeoning grievances including claims of race and disability discrimination and working with them on a strategy to contain and limit damage. Preparation for potential threatened claims and corresponding to defend the client in multi-pronged attacks involving highly technical legal issues.
Mrs M P v S Limited – representation of company client at employment tribunal. Successful outcome in a claim for unlawful deduction of wages.
Conducting intense round table negotiations on behalf of a company client to resolve a major dispute with a team of ex-employees who set up in competition which resulted in a very favourable outcome for the client.
Representing an Embassy in defending and resolving serious conflicts with an employee in the face of the need to accommodate pressing and urgent requirements of the Head of State.
Advising on re-organisation and redundancies of an international business.
Advising on the transfer of the division of a business with TUPE ramifications.