Why planning permission may be needed when using your home for holiday lets
With the holiday season now in full swing, people may be letting out all or parts of their homes for short term holiday lets. Do they need planning permission? The following outlines what rules there are and provides some pointers.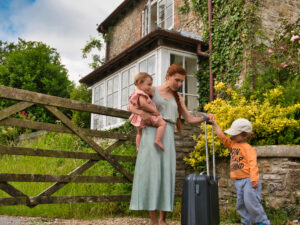 Let's start with some basic principles. The development of land in England and Wales requires planning permission (Town and Country Planning Act 1990 (the TCPA), s. 57). 'Development' is broadly defined in the act and expressly includes a material change in the permitted use of land. Hence, you cannot turn a house into (say) a corner shop without planning permission.
Nonetheless, a use may incorporate a variety of sub-uses ('incidental' or 'ancillary' uses) without the need for planning permission.  The classic example being home working. The main use of my house is residential (i.e. use as a home where I eat, sleep, relax and entertain). However, over the last year I have also been working full-time from home (an office use).   That office use takes up only a small part of my home and is 'incidental' to my broader use of my home. Hence, it does not require planning permission.  To avoid any doubt on this point, this principle has been enshrined in law by s. 55(2) (d) of the TCPA which states:
"The following operations or uses of land shall not be taken for the purposes of this Act to involve development … the use of any buildings or other land within the curtilage of a dwellinghouse for any purpose incidental to the enjoyment of the dwelling house as such".
Note the reference in s. 55(2)(d) to "buildings or other land within the curtilage of a dwelling house". I'll come back to that point later.
Unfortunately, there is no precise legal definition of when a use is 'incidental'. Instead, the approach adopted by the courts is to examine whether the supposedly incidental use materially changes the character of the use of the property as a whole.
Whether or not a change of use is material is a question of fact and degree. It is assessed by comparing the character of the alleged unlawfully changed use with the previous lawful use. Beyond that the courts have established the following principles amongst others:
Materiality must be assessed in planning terms, having regard to the possible effect of any change on local amenity. A change is not material if it is negligible (Lewis v SSE (1971)).
A mere change in the identity of the person using the property cannot amount to a material change of use (Devonshire CC v Allens Caravans (Estates) Ltd (1962)).
Allegations of a material change of use often arise where the existing use has intensified. In this situation, the first step is to establish as a baseline the maximum level of activity that is lawfully permitted on the site. It is the increase above this baseline that must be material in planning terms (Hertfordshire CC v SSCLG (2012)).
Applying such principles to letting out a dwelling house for holiday lettings, the judge in the case of Sheila Moore v Secretary of State for Communities and Local Government (and others) [2012] EWCA Civ 2012 commented that:
"… whether the use of a dwelling house for commercial letting as holiday accommodation amounts to a material change of use will be a question of fact and degree in each chase, and the answer will depend upon the particular characteristics of the use as holiday accommodation. Neither of the two extreme propositions – that using a dwelling house for commercial holiday letting will always amount to a material change of use, or that use of a dwelling house for commercial holiday lettings can never amount to a change of use – is correct".
Material change
In deciding whether or not there has been a material change in the use of the property, the factors that local authorities and planning inspectors tend to look at are the obvious ones: the number and frequency of guests, whether those guests use the property in an uncharacteristic way (e.g. for more frequent, alcohol-fuelled parties late into the evening), the noise and transport impacts, whether guests regularly arrive and leave at particular times, whether there is an increase in servicing (e.g. regular visits from commercial cleaners or caterers), how much of the property is let out and how often. Obviously, back-to-back lettings over the summer months of parts of a property to boisterous guests runs a much greater risk of amounting to a material change of use (and therefore needing planning permission), than an occasional holiday-let to 'monk-like' guests.
At this point, let's return to the issue of "buildings or other land within the curtilage of a dwelling house".  David Cameron famously erected a £25,000 garden shed (apparently in the form of a traditional horse drawn gypsy caravan on wheels) in which to write his memoires. Irrespective of your political persuasion, from a planning perspective that is surely an unobjectionable incidental use? However, having published his memoires and if he needs a little extra income because they are not selling, can he now let out the shed for short-term holiday lets?
The answer is, of course, a question of fact and degree. In this case, the nature of the structure is likely to be particularly important. The gypsy caravan is unlikely to have sufficient facilities to allow for self-catering (not even a bathroom), given the size of the caravan, the number of guests at any one time is likely to be small and as long as the guests are considerate, it would be surprising if such a use had materially different impacts from Mr Cameron's memoire writing days.
It's more complicated with a granny annexe
The issue is more complex where the holiday let is a separate 'granny annexe' capable of being occupied wholly independently of the main house (i.e. it has a separate entrance, kitchen, and living quarters and at best just shares a garden).  In addition to the considerations listed above, a local authority may also take into account the nature of such an annexe and the degree to which it is occupied independently (albeit, that factor by itself is not necessarily determinative). The concern will be that regular holiday letting of such an annexe will have the result that the property as a whole is no longer in a primarily residential use, but instead, in an unauthorised mix of residential and commercial holiday letting use.
So, whether or not you need planning permission this summer to let out part of or the whole of your house for short-term holiday lets or to let out a separate annexe will depend on the particular facts of your case.  There are few hard and fast rules. However, the greater, the more frequent and the more noticeable the impacts of the letting are on the amenity of the immediate area, the greater the number of guests and the greater the independence of the unit, the more likely it is that the letting could amount to a material change of use requiring planning permission.
If you have any concerns as to whether a property you are letting requires planning permission, feel free to contact us. We have experience of successfully advising on whether changes of use require planning permission, and in securing planning permissions / successfully resisting planning enforcement
Disclaimer: Nothing in the Legal Insights section and this blog is intended to provide legal or other professional advice and, if readers are interested, they should consider taking separate legal or other professional advice accordingly.
Meet our lawyers
Our business model encourages true diversity, offering the opportunity for entrepreneurial lawyers from all backgrounds and legal career profiles
Contact us
Services
We pursue excellence in every aspect of our work, aiming to deliver quality, innovation and the highest standards of service
Contact us
Our Pricing

For certain services, we provide a clear indication of our pricing on our website.  These services include: