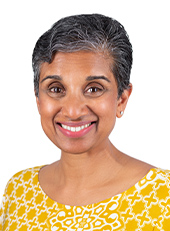 Nelu Abeygunasekera
Partner in Employment
Nelu has over 20 years' experience working with UK and global businesses.  She works with companies in a number of sectors, including professional services, manufacturing, education, travel and logistics.
She is well known for providing commercially effective, sensible solutions-based advice on a range of issues from dealing with disciplinary issues, absenteeism and sickness to advising on post-termination restrictions, discrimination redundancy and restructuring initiatives.
Having worked in-house, in the voluntary sector and a City law firm, Nelu has an understanding of the range of issues and challenges faced by these sectors.
Nelu has also represented directors and senior executives and has a proven track record for being tough and effective when negotiating severance terms and financial packages. She is experienced in tackling complex and high value litigation, having conducted an extensive number of unfair dismissal, discrimination and equal pay/equal treatment cases.
Nelu is a regular speaker at seminars and events and was part of a UK Trade and Industry delegation to Singapore and Malaysia promoting the UK as a place of business.
Resources:
Nelu was a key speaker at the following event and a recording can be viewed by clicking through to the post:
Trading out of the pandemic and post-Brexit: business webinar
Experience
Advised UK branch of a European airline on employment issues in relation to a merger and post-acquisition restructuring and redundancies.
Successfully acted for a Bank in defending whistle-blowing and unfair dismissal claims bought by two senior executives.
Advised a global business on restructuring its UK operation, which involved collective consultation and redundancies.
Acted for a female senior executive in securing a high six figure settlement in relation to sex discrimination, equal pay and unfair dismissal claims.
Secured a significant exit package, including early retirement pension for a senior executive in the financial services sector.