Sarah Nolan
Partner in Dispute Resolution & Commercial Litigation
and Insolvency & Corporate Recovery
Sarah has worked in private practice since 2003 and qualified as a Fellow of the Chartered Institute of Legal Executives in 2008. Prior to moving to Excello Law, Sarah was Director and Head of Commercial at the Jackson Lees Group.
Sarah specialises in insolvency, commercial litigation and dispute resolution matters. She acts for both individuals and corporate clients across a variety of sectors and has over 16 years litigation experience ranging from County Court matters through to Court of Appeal.
Sarah's expertise lies in contentious insolvency matters both corporate and personal, complex contractual disputes, largescale litigation involving multiple parties (including group litigation), director disqualification proceedings and applications for injunctive relief.
Sarah was listed in the Legal 500 2022 directory, along with colleague Dominic McGinn, for both commercial litigation and sports expertise with comments including: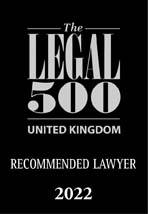 'I worked closely with Sarah Nolan who is professional, friendly, honest and supportive. She would always be at the end of the phone and would keep me updated with the case. I believe she went above and beyond at times and showed great empathy with the case. She had to pull together a cost breakdown for the case which results in significant work going back a number of years. Couldn't have made it to the end of the case without Sarah.'
'I have had the pleasure of working with Sarah Nolan in the Commercial and Insolvency Litigation Team for the past three years. Sarah is a star – fiercely intelligent, commercially astute and incredibly easy to work with. We have worked together on some technically complex, emotive and hard fought litigation and she was a huge asset to the team; completely unflappable, responsive at all times and hugely insightful. She is definitely one to watch and someone you want fighting your corner.'
---
Experience
Sarah has recently represented:
Trustee in bankruptcy in Court of Appeal case Yang v Official Receiver and others [2017] EWCA Civ 1465, [2017] All ER (D) 65 (Oct) in which it was held that the subsequent setting aside of council tax liability orders was not a ground for the annulment of a bankruptcy order made in respect of the Appellant
Four respondents in £2 million claim brought by liquidator alleging misfeasance, breach of fiduciary duty, preference and transaction at undervalue
Director in director disqualification proceedings brought on grounds that he acted as a director whilst bankrupt and traded to the detriment of HMRC
Directors seeking permission to act as directors of company using a prohibited name
Trustee in bankruptcy in possession and sale of property proceedings
Wife in the assertion of a beneficial interest in property in the bankruptcy of her husband
Liquidator in assessment of alleged exaggerated claims made by creditor in a liquidation
Company in successfully having winding-up petition dismissed
Petitioning creditor in the presentation of a winding-up petition
Four defendants in springboard injunction application and substantive proceedings for breach of confidentiality and breach of contract
20 of the bereaved families in the Hillsborough Disaster Inquests, achieving a verdict of unlawful killing. Sarah was a senior lawyer and team leader within a team of around 30 lawyers. She held this role for a 3-year period
Multiple claimants in the Volkswagen NOx Emissions Group Litigation.