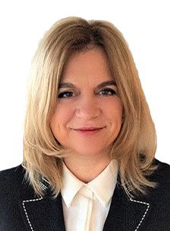 Louise Brown
Partner in Employment
Louise is an employment solicitor with over 22 years' experience including 15 years running her own niche employment law firm as a Sole Practitioner. She had total responsibility for business development, compliance with the SRA requirements, running all aspects of the firm whilst at the same time carrying a significant caseload of clients. Whilst running her own firm Louise employed six employment solicitors.
She has always acted for both employers and employees. Louise has been listed in Chambers as a "notable practitioner".
---
Experience
Louise has particular expertise in discrimination cases and has conducted many high profile discrimination cases on behalf of Claimants in the Employment Tribunal (ET), Employment Appeal Tribunal (EAT), High Court and Court of Appeal.
Keeley –v- Fosroc International Limited [2006] ALL ER (D) 65 where she acted for the Claimant. This was a case dealing with the effect of company handbooks and when their provisions are incorporated into an employee's contract of employment. The Court of Appeal gave judgment in favour of the Claimant, reversing the decision of the High Court. Judgement was given in the sum of around £80,000.00.
Grimley –v- Turner and Jarvis [2004] ALL ER (D) 20 where she acted for the Claimant in a disability discrimination claim. The EAT upheld the ET's judgment in favour of the Claimant and damages were awarded in the sum of over £20,000.00.
Gilkes –v- Northamptonshire County Council [2006] ALL ER (D) 307 where the EAT considered the liability to pay employees compensation for unfair dismissal when the employee was employed by the governing body of a school.
Shaw –v- CCL Limited (UK EAT/0512/06) where she acted for the Claimant and the EAT held that the refusal of a flexible working request amounted to direct and indirect sex discrimination and led to a fundamental breach of the Claimant's employment contract entitling her to resign and claim constructive unfair dismissal.
Acting for a major public school in a reorganisation of a department involving over 100 employees and requiring close compliance with the Trade Union and Labour Relations (Consolidation) Act 1992.