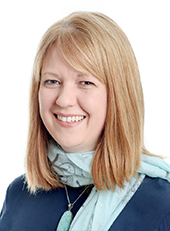 Katie Gray
Specialist in Commercial Contracts, Commercial Property
and Property Development
Katie's aim is to provide a modern, professional and very approachable legal service to all her clients.
After completing a first degree in Business and Computing Katie decided that law was where her professional future lay, so took firstly a Postgraduate Diploma in Law, followed by a Legal Practice Course whilst working for a large local practice, and then most recently a Master's Degree in Advanced Commercial Property Law.
Katie specialises in all areas of commercial property and works for a wide variety of clients, including property developers and investors, business owners, pension funds, management companies and insolvency practitioners.
Rather than just sitting behind a desk all day Katie likes to make things easier for her clients by meeting them at their own offices, at the times that are most convenient for them.
Katie's personal values of integrity, patience and attention to detail form the basis of how she does business and Katie knows from the endorsements she has received that these characteristics are appreciated by her clients.
---
Experience
Since 2013, Katie and her business partner, Lynn Hobbs, have worked through Excello Law as self-employed consultants. The Excello Law business model means that clients can benefit from all the expertise and high-quality services of a traditional law firm, but without the associated overheads needed to support a complex management structure. This difference is reflected in their very competitive prices, as they are able to set their own hourly charge out rates. It also means that clients have access to the full range of legal services other than just commercial, if needed, through the wider Excello network of consultants.
The areas that Katie most usually deals with are:
sale / purchase of land
property development and site assembly
option agreements
overage / claw back arrangements
landlord and tenant
estate management
property management companies
investment properties / pension funds
finance agreements / mortgages