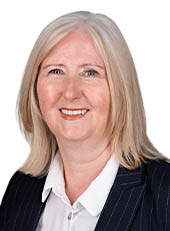 Dawn Joughin
Specialist in Private Client
Private Client Lawyer
Dawn has specialised in private client law for the past 18 years. She is a friendly, approachable professional, who is very experienced in drafting wills and trusts. She often works with clients' financial advisors and accountants to provide advice, helping to preserve, build and maintain clients' wealth.
Dawn undertook disputed estates work for many years, and her background enables her to spot potential claims which may arise in the estates of clients. By providing appropriate advice, and the judicious use of trusts and no contest legacies within wills, it is possible to reduce the likelihood of a potential claim against the estate of a high net worth client who may have multiple business interests and a complex family situation; or to, at least, provide trustees with a flexible mechanism to settle a claim.
Many couples entering into a second marriage, bring to that marriage children from other relationships. Dawn advises many such couples on how to ensure they provide for each other, so the survivor is not negatively impacted, but also ensuring their own respective children benefit from any assets they have brought to the marriage, by including life interest trusts in their wills.
Dawn also assists clients in making applications for Probate and Letters of Administration, adding value by completing claims for residence relief and unused nil rate bands, where available.
Her experience also enables her to advise on the administration or winding up of any trusts which may arise under the provisions of the will, in accordance with clients' wishes and best interests.
Dawn also advises on setting up and administering lifetime trusts and making Lasting Powers of Attorney.
Experience
Providing advice to beneficiaries of a will, on how to vary the terms of a will so they would benefit from a reduced rate of inheritance tax. Where a will provides for 10% of the net value of the estate to pass to charity, the executors may claim the reduced rate of inheritance tax at 36% (standard rate 40%). The deceased had left gifts to charity which fell slightly short of the required 10% net value. By varying the provisions of the will in this way, the beneficiaries of the estate actually paid less inheritance tax, and were able to provide additional benefit to the charities
Advising clients on a variation of an estate to assist with their own estate planning. Gifts made in excess of the annual allowance (£3000) are known as PETs (potentially exempt transfers), so called as the person making the gift must survive 7 years from the date of the gift, for the value to be outside of their estate for inheritance tax purposes. If they do not survive 7 years after making the gift, the value will be included in the value of their estate for inheritance tax purposes (subject to any available taper relief). During my initial discussion with clients, it became apparent the lady in question was due to inherit a large sum of money from her late mother's estate. An application for probate had been made, but no distributions had been made from the estate. I was able to advise my client, she could enter into a deed of variation to vary the gift due to her from her mother's estate, enabling it to pass directly to her own children, and it would be treated as a gift from her mother's estate. The variation was tax neutral (ie no tax consequences for her mother's estate) and it avoided adding to her estate value, which she was in any event attempting to reduce.