New regional business development ambassador appointments for London & Yorkshire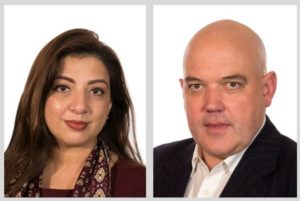 New-model firm Excello Law has appointed two new regional business development ambassadors.  Employment lawyer Hina Belitz will focus on central London, and fellow employment lawyer Matthew Yates will cover Yorkshire.
The role of regional business development ambassador adds value to the central strategy by providing a framework to harness lawyers' extensive local knowledge and networks, helping to identify and target new client prospects, potential candidates to join the firm and introducers, working with the firm's leadership, recruitment and marketing teams.
The role was pioneered by corporate lawyer Julie Mogan in the north west and has proved very successful in providing dedicated resource, coupled with local knowledge, to increase opportunities across the firm.
Excello director Jo Losty commented: "Both Hina and Matthew have excellent contacts across their respective regions and a core commitment to the collaborative working culture that we enjoy within Excello Law.
"Over the last few years, we have strategically focused on the importance of investment in raising awareness and visibility of the Excello Law brand within business and legal communities. Enhancing our network of regional business development ambassadors across these two major business hubs in London and Yorkshire, complementing what we have already achieved in the north west, will offer increased opportunities to the whole Excello Law family."
Meet our lawyers
Our business model encourages true diversity, offering the opportunity for entrepreneurial lawyers from all backgrounds and legal career profiles
Contact us
Services
We pursue excellence in every aspect of our work, aiming to deliver quality, innovation and the highest standards of service
Contact us
Our Pricing

For certain services, we provide a clear indication of our pricing on our website.  These services include: