Marketing award win for Excello Law at Modern Law Awards 2019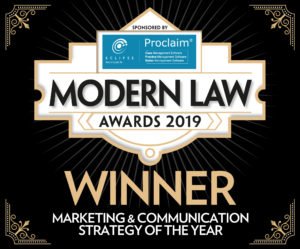 Excello Law has won the Marketing & Communications Strategy of the Year award at the Modern Law Awards 2019 for the firm's 'Passion for Law' marketing & PR campaign and recruitment website which has been instrumental in promoting the role of 'consultant solicitor' within the legal profession and providing candidates with a wide range of information and practical understanding about 'NewLaw' – check out PassionForLaw.com
The 'Marketing & Communications Strategy' category highlights exceptional originality, marketing excellence and innovative thinking across a fully integrated programme or campaign including social media.
Excello Law was also shortlisted in the 'Law Firm of the Year' category which recognises firms that can demonstrate extensive development and progress as a business in 2018 including strategy, growth, financial performance, employee development, diversity and training.
George Bisnought, managing director, commented: "We were delighted to win the Marketing & Communications Award which reflects the time and resource we have put in to our marketing strategy to attract the highest quality lawyers to work within the firm and the promotion of 'consultant lawyer' working, which continues to increase year on year across the profession.  It's exciting for us as a business to be judged against our peers and to receive this recognition, especially as we approach our 10th anniversary in 2019."
The award was collected by Chief Marketing Officer Lesley Potter and Recruitment Director Joanne Losty.
Meet our lawyers
Our business model encourages true diversity, offering the opportunity for entrepreneurial lawyers from all backgrounds and legal career profiles
Contact us
Services
We pursue excellence in every aspect of our work, aiming to deliver quality, innovation and the highest standards of service
Contact us
Our Pricing

For certain services, we provide a clear indication of our pricing on our website.  These services include: