Lesley Sullivan wins WIBA Outstanding Legal Services Personality of the Year Award 2020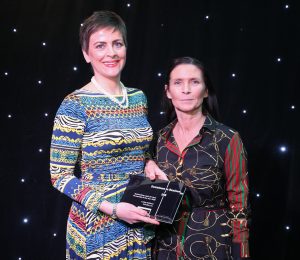 Excello private client lawyer Lesley Sullivan has won the Downtown Women in Business Award (WIBA) for Outstanding Legal Services Personality of the Year 2020. The awards recognise the best female business leaders and entrepreneurs from across the Liverpool City Region.
Having always lived and studied in Liverpool, qualifying as a solicitor in 2008, Lesley spent over a decade working in Altrincham with her previous firm, joining Excello in autumn 2019 and heralding a move to working in her home city too.
At Excello Law, lawyers work as consultants with the support of a central team and infrastructure. For Lesley, this offered two things: 'I could start my own business, and I could also work my business around family life, rather than the other way around.
"It was a big step and took a lot of soul-searching, but I knew I could challenge myself to achieve more and it was exciting. I am really enjoying working for myself and being back in Liverpool. You can't beat the scouse banter and I'm loving it!'
Lesley has worked in private client practice for over 12 years and is a registered Trust and Estate Practitioner. Her specialisms include advising on wills, trusts, administering estates, Inheritance Tax (IHT) planning and Lasting Powers of Attorney, advising business owners and high net worth individuals.
Lesley said: "Despite my title, I don't see myself as a lawyer. I am a people person and think a major part of my role is getting to know my clients, making them feel comfortable with me and then providing the advice.
"My specialism is wills, trusts and probate and so talking about death and taxes all day is not the lightest of subjects. I try to inject a little humour and I've had feedback that people enjoy the meetings, but I'm always aware of the sensitivities."
The WIBA awards recognise women who are breaking down barriers, challenging the traditional and acting as powerful role models for other women. Lesley commented: "The Excello model is great for parents who are trying to juggle full-time employment whilst bringing up children. Working and having young children is tough! I have had experience of what life is like working within a traditional law firm model and juggling the two isn't easy. Now life is much better.
"I want to be a role model for other working mums. You can work, have children and have fun whilst doing it. I have a lot to offer and winning this award will not only help raise my profile; it will help me to help other women discover better ways of continuing to build their careers, as well as be with their families.
"I have every intention of helping other lawyers get on board. There is a stereotype that solicitors have to work long hours to be successful. I am here to break that stereotype."
Meet our lawyers
Our business model encourages true diversity, offering the opportunity for entrepreneurial lawyers from all backgrounds and legal career profiles
Contact us
Services
We pursue excellence in every aspect of our work, aiming to deliver quality, innovation and the highest standards of service
Contact us
Our Pricing

For certain services, we provide a clear indication of our pricing on our website.  These services include: