Law Firm of the Year finalist at LexisNexis 2019 awards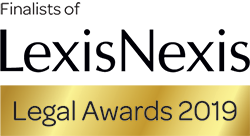 Excello Law has been announced as a finalist in both the Law Firm of the Year and the Legal PR/ Media Communications categories at the LexisNexis Legal Awards 2019.  The LexisNexis Legal Awards (formerly known as the Halsbury Legal Awards) were launched in 2013 to recognise and celebrate excellence and innovation across the legal sector and they have attracted an increasing number of high calibre entrants each year.
The last 12 months has been one of the most successful for the firm with the expansion of our office network, the launch of a dedicated recruitment website, a partnership with new-model firms in Australia and the US, the launch of our trainee solicitor programme and the setting-up of managed services platform Excello Libertas, which provides the practice infrastructure for what has just been announced as the largest legal claim ever to come before a British court.
Joanne Losty, recruitment director, commented: "We are delighted to be shortlisted twice in the LexisNexis awards as we approach our 10th anniversary.  Excello Law has championed 'NewLaw' as a credible and sustainable option for legal services provision and delivered a step change in working practices for lawyers that is heralding change across the profession."
Meet our lawyers
Our business model encourages true diversity, offering the opportunity for entrepreneurial lawyers from all backgrounds and legal career profiles
Contact us
Services
We pursue excellence in every aspect of our work, aiming to deliver quality, innovation and the highest standards of service
Contact us
Our Pricing

For certain services, we provide a clear indication of our pricing on our website.  These services include: