Excello shortlisted for Law Company of the Year in The Lawyer Awards
Excello Law has been shortlisted as a finalist for Law Company of the Year in The Lawyer Awards 2021.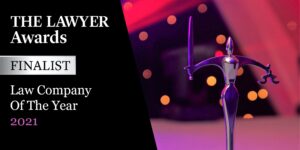 The category recognises success against the achievement of the firm's business objectives over the last year with a focus on client growth and retention, overcoming business challenges in the market and investment in technology and talent to maintain a market-leading position.
In the middle of the pandemic, Excello chose to focus investment on continuing to build a network of 'free to use' modern offices for its consultant lawyers, opening both in Manchester and Leicester in early 2021, as a sign of growing confidence in the growth of the consultant lawyer model over the next five years, and re-engineered its back-office business support services to provide a seamless transition process for lawyers and their clients when joining the firm.
This included many services often charged for as 'extras' by other firms under the standard share fee arrangement, but which Excello offers as standard to all new joiners including enhanced secretarial, marketing and business development support.
George Bisnought, founder and managing director of the firm, commented: "We're delighted with the recognition from The Lawyer at becoming a finalist in the Awards.
"At a time of global uncertainty and challenging economic conditions, the last 12 months has been a year of unprecedented expansion for us. We've delivered an increase in turnover of 20% over the previous year and a growth in total team numbers of 23% with 22 lawyers and 5 additional support staff having joined us during the period.  We have a very healthy pipeline of senior lawyers looking to transition to the consultant model."
The award winners are due to be announced in November.
Meet our lawyers
Our business model encourages true diversity, offering the opportunity for entrepreneurial lawyers from all backgrounds and legal career profiles
Contact us
Services
We pursue excellence in every aspect of our work, aiming to deliver quality, innovation and the highest standards of service
Contact us
Our Pricing

For certain services, we provide a clear indication of our pricing on our website.  These services include: