Excello Law opens larger office facilities in Leeds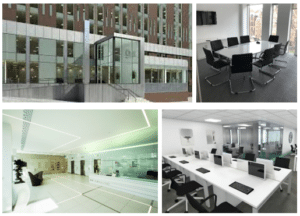 National, new-model law firm Excello Law has moved to new offices in Leeds at 9 Bond Court, doubling the amount of space available from its previous office facilities in the Bond Court complex, and reflecting the increasing growth of the firm across Leeds and Yorkshire.
Providing state of the art accommodation to support fully agile working, the space enhances the flexibility for Excello lawyers to work as they choose – either office based from regional office hubs, or through a combination of flexible, mobile or remote working.
9 Bond Court complements the firm's other offices in Liverpool, Chester and London.
Recently joining the team in Yorkshire is dispute resolution and family law solicitor advocate Ben Jenkins and employment lawyer Matthew Yates, who has also been appointed as Excello's business development ambassador for the region.
Insolvency mediator Steve Thomas commented: "As an award-winning, fully agile law firm, the needs of our lawyers have always been at the heart of our service matrix.
"As we continue to grow our expertise across the region, with a team of ten senior specialists now covering all aspects of commercial law, our new Leeds office reflects our commitment to the significance of Leeds as a major business hub, as well as offering a great space to hot desk, collaborate with colleagues and host client meetings for any of our national team of lawyers travelling to the area."
Find our more about working at Excello Law:  www.PassionForLaw.com
Meet our lawyers
Our business model encourages true diversity, offering the opportunity for entrepreneurial lawyers from all backgrounds and legal career profiles
Contact us
Services
We pursue excellence in every aspect of our work, aiming to deliver quality, innovation and the highest standards of service
Contact us
Our Pricing

For certain services, we provide a clear indication of our pricing on our website.  These services include: