Excello advises The Suzy Lamplugh Trust on bystander intervention training programme deal with L'Oreal Paris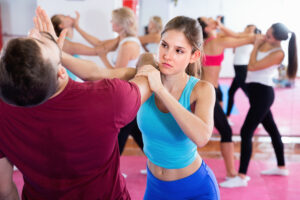 Excello business and corporate lawyer Anca Thomson has advised the UK's pioneering personal safety charity, The Suzy Lamplugh Trust, on the terms of a deal with L'Oréal Paris to bring Right To Be's expert approved international bystander training programme 'Stand up against Street Harassment' to the UK. The programme is sponsored by L'Oréal Paris as a part of a global initiative to train a community of bystanders, with hundreds of thousands trained already in other countries.
The Trust has been chosen as the exclusive UK partner by L'Oréal Paris to deliver a series of free, virtual one-hour training sessions over the course of 2022.  The programme drives awareness of harassment, upskilling and empowering individuals across various settings, such as public transport, educational institutions, festivals, public spaces, and workplaces, to help defuse situations, discourage harassers, and support victims.
Saskia Garner, head of policy and campaigns at The Suzy Lamplugh Trust, commented: "We have experienced unprecedented demand for bystander training from both the business world and the general public following the increasing outpouring across society about the harassment of women in public places.  People and organisations want to take steps to address the prevalence of unwanted and aggressive behaviours that underly the broader cycle of violence against women and girls, which the Trust has worked on since its inception over three decades ago. This partnership will allow the Trust to fulfil its objective of standing against harassment alongside the wider public."
Anca Thomson commented: "I have advised The Suzy Lamplugh Trust for a number of years and was pleased to be able to support them on the contractual details with L'Oréal Paris to bring the training programme to the UK.  80% of women have reported receiving unwanted attention in public spaces and this is a powerful programme to empower people to deal with harassment and unwanted behaviours."
Sessions are an hour long, free of charge and can be booked via The Suzy Lamplugh Trust for individuals, groups and organisations.
Meet our lawyers
Our business model encourages true diversity, offering the opportunity for entrepreneurial lawyers from all backgrounds and legal career profiles
Contact us
Services
We pursue excellence in every aspect of our work, aiming to deliver quality, innovation and the highest standards of service
Contact us
Our Pricing

For certain services, we provide a clear indication of our pricing on our website.  These services include: