Corporate lawyer Rob Andrews advises on acquisition of classic car business by SNG Barratt Group Ltd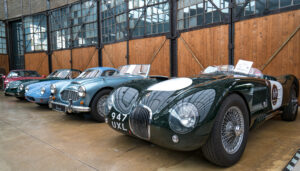 SNG Barratt Group Ltd, an internationally renowned classic parts specialist based in Shropshire, has acquired Herefordshire-based Holden Vintage and Classic for an undisclosed sum.  Rob Andrews, corporate partner at national firm Excello Law, advised SNG Barratt Group on the deal.
Holden Vintage & Classic is a family-run, mail-order company, established in 1988 and was the first company selling classic car and motorcycle parts on the internet.
SNG Barratt Group Ltd was launched by Stephen and Hazel Barratt in the early 1980s, originally as Jaguar specialists, particularly for hard-to-source E-Type parts. The business took off in the 1990s following the acquisition of SOVY, a parts supplier to Jaguar, Land Rover, Bentley, Aston Martin, Bristol and other British car firms.
The company is now run by son Julian Barratt and employs a team of over 100 people, supplying tens of thousands of parts all over the world.
Rob Andrews commented on the deal: "SNG Barratt Group is recognised as the go-to place for car parts and accessories for many heritage car manufacturers such as Aston Martin, Land Rover, Caterham, Jaguar and Mini.
"The deal to acquire Holden Vintage & Classic helps cement their market position as a leading and specialist supplier of heritage and hard-to-source car parts and I was delighted to help them realise their acquisition ambitions, which also proved timely for Holden."
A spokesperson from SNG Barratt commented: "Rob was extremely helpful and managed to perfectly balance the difficult task of ensuring that he explained the processes and issues in layman's terms as well as ensuring we understood the complexities of the deal. There were a number of hurdles we encountered and Rob was excellent in breaking the issues down for us to ensure we understood the risks and allowing us to make decisions with all the facts in front of us."
Thursfields Solicitors corporate director Tim Edwards, assisted by Ellie Bryan, advised Jeremy Holden.
Photo Credit: Stefan Bernsmann / Shutterstock.com
Meet our lawyers
Our business model encourages true diversity, offering the opportunity for entrepreneurial lawyers from all backgrounds and legal career profiles
Contact us
Services
We pursue excellence in every aspect of our work, aiming to deliver quality, innovation and the highest standards of service
Contact us
Our Pricing

For certain services, we provide a clear indication of our pricing on our website.  These services include: