Corporate, finance and immigration specialists join Excello Law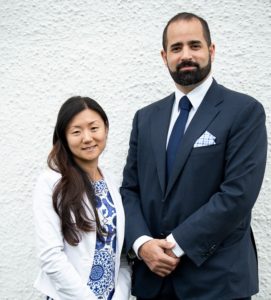 Corporate, banking and finance lawyer Sherif Hampton, and his colleague Sonia Cheng who specialises in immigration and commercial contracts, have joined national, new-model firm Excello Law.
Sherif qualified in 2009 and has worked at several global law firms including Jones Day and Ashurst. With a background in corporate/commercial and banking & finance, he has worked on a range of UK and cross-border transactional matters including mergers and acquisitions, joint ventures and a range of institutional and PE/VC financings.  He has acted for lenders and borrowers on numerous Islamic finance transactions and was resident in the UAE, Saudi Arabia and Bahrain for many years.
Most recently, Sherif managed his own practice in Scotland, where he and Sonia focused on working with start-ups and SMEs providing a variety of commercial, corporate, IT, immigration and commercial property matters.
On joining the firm he commented: "Lawyers today are looking for a firm which operates differently, not just in words but in actuality. Excello brings together multiple practice areas, operates efficiently and provides the required flexibility to its lawyers, enabling them to focus on what is important to them personally. I am very pleased to be joining Excello and look forward to growing our practice together."
Sonia qualified in 2018. She is a member of the Immigration Law Practitioners' Association and has previously worked with a charity dedicated to providing immigration assistance.  She is experienced in corporate immigration matters and frequently handles EU enquiries, domestic/spousal visas and applications which fall outside standard rules. She also provides advisory/training sessions and conducts application reviews.
Sonia commented: "Having a work/life balance while being part of a reputable and award-winning firm makes complete sense to me. Agile working means I am able to provide a much more personal and higher quality level of service to my clients. I am happy to be part of Excello and its continuing success."
George Bisnought, managing director of Excello Law, commented: "Sherif and Sonia bring a lot of expertise and valuable additional skills to the firm, particularly across banking & finance and immigration legal services. In our 10th anniversary year, our collaborative and flexible working model continues to provide senior lawyers and teams with a modern working environment and the ability to focus their time 100% on looking after the needs of their clients."
Meet our lawyers
Our business model encourages true diversity, offering the opportunity for entrepreneurial lawyers from all backgrounds and legal career profiles
Contact us
Services
We pursue excellence in every aspect of our work, aiming to deliver quality, innovation and the highest standards of service
Contact us
Our Pricing

For certain services, we provide a clear indication of our pricing on our website.  These services include: