PSC register must be completed by companies
Every UK company (other than ones which have equivalent disclosure obligations, for example, as a result of being listed on a stock exchange) has since 6 April 2016 been required to keep a Register of Persons with Significant Control (PSCs).  Since 30 June 2016 it has been required to file the information on the PSC Register at Companies House with the annual Confirmation Statement (which has replaced the Annual Return). Equivalent obligations also apply to Limited Liability Partnerships (LLPs).
The new regime is too complex for anything other than superficial summary here, but essentially companies will have to take reasonable steps to identify their PSCs and confirm certain information about them, with guidance being available as to what constitutes 'reasonable steps'.  There are also obligations on the PSCs themselves to identify themselves to companies.  Companies will also have to take steps to monitor and update their information on an ongoing basis.
In order to avoid duplication of effort and data, the concept of registrable relevant legal entities (RRLEs) has been introduced. If a shareholder of a company is itself a company which is required to keep a PSC (an RRLE), then it can be recorded in the subsidiary's Register of PSCs as an RRLE, without having to analyse further up the chain of the group of companies in order to identify the individuals who have ultimate control.
What is critical is that the PSC Register cannot be left blank. If there are no PSCs or RRLEs, the PSC Register must contain a statement to that effect. To take no action in respect of the new requirements is therefore not an option.
An individual is a Person with Significant Control of a company if any of the following apply:
They hold, directly or indirectly, more than 25% by nominal value of the shares in the company (or 25% of capital or profits for LLPs) or
They hold, directly or indirectly, more than 25% of the voting rights in a company, or
They hold the right, directly or indirectly, to appoint or remove a majority of the board of directors of the company or
They have the right to exercise, or actually exercise, significant influence or control (with guidance published as to what this means) over the company or
They are the trustees of a trust or the members of a firm that satisfies any of the conditions above
Indirect ownership – anomaly or loophole?
A 30% shareholder of a UK company would be a PSC by virtue of holding more than 25% of its shares. A 30% shareholder of a UK company's 100% UK parent company would also be indirectly registered by virtue of the parent being an RRLE, and the individual being on the parent's Register of PSCs. In an identical situation though, but with an overseas parent instead (which would not, by virtue of being an overseas company, be an RRLE) the complex rules on indirect ownership mean that the 30% shareholder would not be deemed to control the parent, and would therefore not appear on any register as a PSC of the UK subsidiary.
Disclaimer: Nothing in the Legal Insights section and this blog is intended to provide legal or other professional advice and, if readers are interested, they should consider taking separate legal or other professional advice accordingly.
---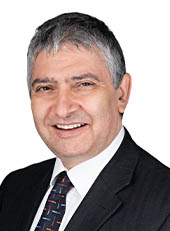 Specialist in Commercial Contracts and Business & Corporate
Meet our lawyers
Our business model encourages true diversity, offering the opportunity for entrepreneurial lawyers from all backgrounds and legal career profiles
Contact us
Services
We pursue excellence in every aspect of our work, aiming to deliver quality, innovation and the highest standards of service
Contact us
Our Pricing

For certain services, we provide a clear indication of our pricing on our website.  These services include: