Government announces revolutionary 'no fault' divorce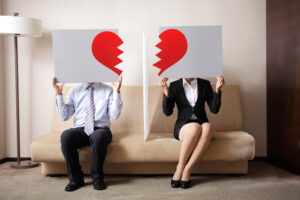 The government has announced that the Divorce, Dissolution and Separation Act will come into force on 06 April 2022, introducing no fault divorce.  This will enable couples to divorce without having to place blame.
What are the changes?
This revolutionary change will replace the requirement for parties to rely on one of five facts, previously unreasonable behaviour, adultery, 2 years' separation, 5 years' separation or desertion.  Couples will continue to have to show that the relationship has irretrievably broken down, providing a statement to that effect.  The possibility of the other party contesting the divorce will be removed, putting an end to lengthy and costly proceedings that have previously increased acrimony.  Now, couples choosing to separated will have the opportunity to submit a joint application, allowing people to progress through the divorce process amicably.
The divorce process itself will also change, replacing old language such as Decree Nisi and Decree Absolute with Conditional Order and Final Order.  There will be a period of reflection of 20 weeks from the application being made before the Conditional Order can be made.  It is hoped that this will allow parties to take the time to decide whether they do want to proceed with the separation, providing time to take legal advice on the best way to move forward for families.  The 6 week period between the Conditional Order and the Final Order will remain.
The changes will also apply to civil partnerships.
What does this mean for families?
These changes will enable families to be able to work together positively towards separation, removing the need for blame and reducing conflict.  Starting the process constructively will allow people the opportunity to explore the various dispute resolution options that are available, including Mediation, Hybrid Mediation, Collaborative Law, Arbitration and Adjudication.
If you are thinking of separating and want to discuss the options available contact Excello Law's specialist family team.
Disclaimer: Nothing in the Legal Insights section and this blog is intended to provide legal or other professional advice and, if readers are interested, they should consider taking separate legal or other professional advice accordingly.
---
Meet our lawyers
Our business model encourages true diversity, offering the opportunity for entrepreneurial lawyers from all backgrounds and legal career profiles
Contact us
Services
We pursue excellence in every aspect of our work, aiming to deliver quality, innovation and the highest standards of service
Contact us
Our Pricing

For certain services, we provide a clear indication of our pricing on our website.  These services include: