Are auditors to blame for Britain's high-street woes?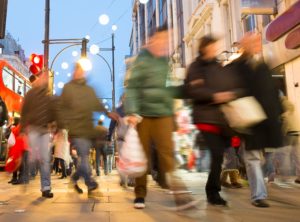 Everyone has felt the effects of a long cold winter. But this year, it was particularly bitter for some of Britain's best-known retailers. Toys 'R' Us will soon be no more with the loss of 3,000 jobs in the UK alone. The administrators are also in action at Maplin, where closing down sales are already underway. Carpetright is in the process of closing stores and raising emergency finance. Meanwhile, Mothercare is in talks with its bankers over a planned restructuring, Next has announced its toughest trading period for 25 years, and Moss Bros and B&Q are the latest companies to issue sharp profits warnings, joining John Lewis where profits fell by 77% last year.
So why is this happening to so many household names when the British economy is not in recession, or indeed set on a downward economic path? It might be tempting to give a one-word answer: Amazon. The exemplar of online retail success, Amazon has gone from being a start up business only a generation ago to becoming the second most valuable company in the world this year with a market cap of $750bn.
Changing consumer market
However, to claim that Amazon is the main cause of retailers' problems is both simplistic and flawed. The picture is much more complex. The failures of Maplin and Toys 'R' Us are a direct consequence of a changing consumer market: the online threat facing bricks and mortar retail stores in the UK is considerable with total sales down by 2.5% last year, continuing a pattern of decline established over nearly a decade. Year on year, in-store sales of non-food items fell by 4.4% in December – the worst Christmas performance for five years.
As a result, insolvency practitioners have been busy. Another prominent casualty this winter was Carillion, Britain's second largest construction company and a diversified international business with multiple outsourcing and public service projects on its books. Quite different from the problems facing those in charge of high street retailers, it went into liquidation in January, putting nearly 20,000 UK jobs at risk, as a consequence of systematic management failure. In what happened during the months leading up to its collapse and in subsequent events during the insolvency process, there are echoes of the April 2016 demise of BHS.
In both cases, the directors and former directors of Carillion and BHS have been subject to much scrutiny. No-one can forget Sir Philip Green's memorable TV performance when he was questioned by a parliamentary committee, broadcast live on the BBC, while the Financial Reporting Council recently announced that two former Carillion directors are set to face an investigation into their conduct over the company's activities.
Overhaul of insolvency framework
Responding to what it calls "recent corporate governance failures", the government has also announced an overhaul of Britain's insolvency framework with plans designed to prevent any repeat of failures such as BHS and Carillion. This will involve new legislation that makes it easier to bring criminal proceedings against the most "reckless" employers and directors of businesses which are either already in, or approaching insolvency. Given what happened at BHS and what is reported to have happened at Carillion, this initiative is very welcome.
On the face of it, the administrations of Toys 'R' Us and Maplin are quite different from these problems, but there may in fact be a common link: the conduct of auditors. According to the International Forum of Independent Audit Regulators, lapses in accounting were identified at an astonishing 40% of the 918 audits of listed public interest entities which they inspected last year.
This raises inevitable questions about the quality of work that is being carried out by some of the world's largest accounting firms. However impressive they may be in the scope and scale of their operation, there may be a lack of transparency between businesses and their auditors which has resulted in very large companies falling into administration.
A difficult winter for Britain's consumer economy has passed. According to the Office for National Statistics (ONS), although trade fell at non-food stores, the latest retail data showed a rise in sales at supermarkets in February as overall retail sales volumes picked up by 0.8% compared with January.
We can hopefully look forward to further improvements in the spring. Likewise, it is to be hoped that in addition to the outcome of the government's plans to overhaul the insolvency framework, there will also be heightened transparency between businesses and their auditors. This would benefit everyone concerned: employees and consumers, as well as businesses themselves.
Published in Accountancy Daily – 9 March 2018
Disclaimer: Nothing in the Legal Insights section and this blog is intended to provide legal or other professional advice and, if readers are interested, they should consider taking separate legal or other professional advice accordingly.
---
Partner in Dispute Resolution & Commercial Litigation,
Insolvency & Corporate Recovery
Meet our lawyers
Our business model encourages true diversity, offering the opportunity for entrepreneurial lawyers from all backgrounds and legal career profiles
Contact us
Services
We pursue excellence in every aspect of our work, aiming to deliver quality, innovation and the highest standards of service
Contact us
Our Pricing

For certain services, we provide a clear indication of our pricing on our website.  These services include: