Taking children abroad after a separation – do you need permission?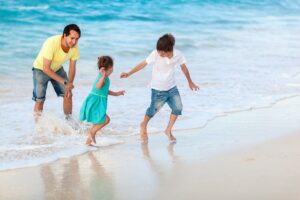 This summer marks the first summer in over two years where we can travel abroad (almost) freely and we have already seen a huge increase in holidays being booked for this summer. Although many destinations still require COVID testing, separated parents will also need to consider the implications of taking their child or children out of the country.
Child abduction is an extremely serious matter and governments across the globe now impose far stricter obligations on parents when travelling with their child.
Do I need to obtain permission from my child's other parent?
If you have a court order (under Section 8 of the Children Act 1989) that states the child lives with you, then you have automatic permission to travel abroad with that child for up to one month. This is subject to any other provisions that may be included within the order.
If there is no court order, there is no automatic permission to remove the child from the country.
Generally speaking, unless there is a real concern for the child's welfare, it is expected that parents will want to take their child or children on holiday and the other parent should be reasonable in agreeing to this.
What if the other parent does not agree?
You can apply for a court order to take a child overseas, and the court will make their decision based on the welfare of the child. Every case will be considered on its independent facts, and the judge will decide whether the trip is in the child's best interests.
The court will also consider:
whether the trip will affect contact with the parent remaining in the country
whether the child's specific needs will be met during the holiday
the child's wishes and feelings, taking into account their specific age and understanding of the matter
whether the child is at any risk of harm or suffering if they remain in the UK
After considering all of these factors, the judge will make a decision based on the independent application proposed, taking into account what is appropriate and in the child's best interests.
What should I take on holiday with me?
When you have obtained agreement from the other parent, it is important that you carry sufficient documentation when travelling with the child or children. This should include:
a copy of the child's birth certificate, which will identify the child's parents
any evidence you have that you are the parent. This is especially important if you have changed your name since the child was born. For example, a marriage certificate or proof of divorce can be used to evidence this
a letter from the other parent agreeing to the trip, ideally an original signed copy. This letter should include consent to that specific trip, including dates and location
extra copies of all the documents above, in case any authorities decide to retain a copy
If you are experiencing difficulties in taking your child abroad and want further advice, contact Excello Law's family team.
Disclaimer: Nothing in the Legal Insights section and this blog is intended to provide legal or other professional advice and, if readers are interested, they should consider taking separate legal or other professional advice accordingly.
---
Meet our lawyers
Our business model encourages true diversity, offering the opportunity for entrepreneurial lawyers from all backgrounds and legal career profiles
Contact us
Services
We pursue excellence in every aspect of our work, aiming to deliver quality, innovation and the highest standards of service
Contact us
Our Pricing

For certain services, we provide a clear indication of our pricing on our website.  These services include: